September 7, 2021 | Collin Cranor
Chapter 3: Dialing It In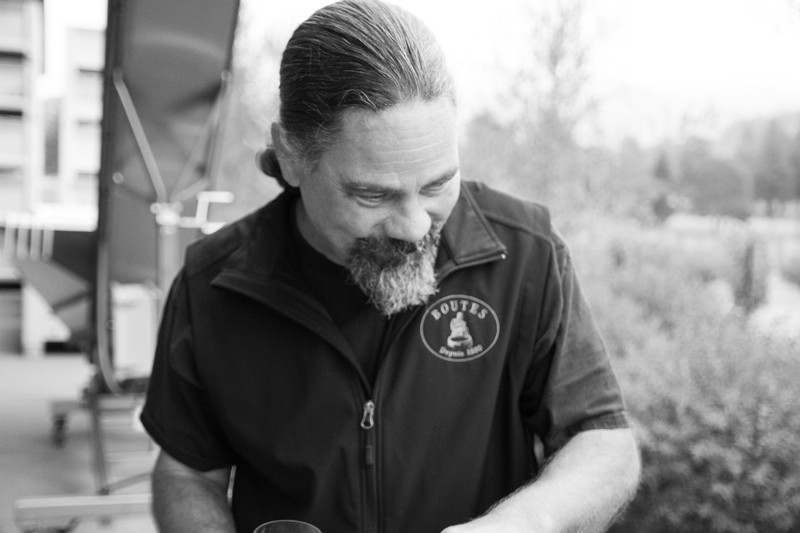 Looking back, we wrapped up our 2014 harvest and It was a long one. A year of so many programs with fewer people in production. It was the year that I remember thinking, "what the hell are we doing?" We were six vintages in but by all accounts in the wine industry we were still a startup. We had grown to a collection of three brands with about 40 different products. From a winemaking perspective, I was certainly satisfying my curiosity. And in those 6 short years, we got hands-on experience working with a multitude of wines in many ways.
While Cabernet and its Bordeaux counterparts were always the driving force, we had several ancillary projects always going. White Rhône's from Central Coast, 100+ year old contra costa Carignan and Grenache, and Chardonnay from several regions.
I always had young, eager, and talented assistant winemakers at my side and we were all truly curious. We ran intense trials, in fact, pretty much everything was a trial. On Rhône's, we experimented with whole cluster ferments, carbonic maceration, and native fermentations with minimal intervention. Other times we'd throw the kitchen sink at lots. We worked with several different coopers, barrel fermenters, stainless tanks, open tops, closed tops you name it. Reductive vs oxidative ferments, varying lees capture, time on lees, etc. We answered a lot of questions, oftentimes what to not do but with the help of many great mentors, I had more or less taught myself winemaking and more importantly winery operations.
In 2015 I really started to try to dial it in. I was becoming a jack of all trades, master of none. We started the process of dialing back our SKU count, focusing on our best wines and really digging into each vineyard, and learning how we could get the most from each site.
While the wines were improving we were really starting to hit a wall financially. The cost of fruit in Livermore Valley was skyrocketing but Livermore as a region was still not getting the market respect needed to hit margins that were sustainable. For many years a handful of us small producers were fighting to create an identity for the region. It was simple, every great region is known for something. A variety, a blend, or something that says this is "burgundy" or this is "Napa Valley".
I quickly became obsessed with monitoring phenolics and testing wines we liked to drink. We added wine x-ray into our production protocol and have never looked at Winemaking the same. We learned we were doing a very good job of managing our phenolic load in fermenters without really knowing why, all the way. We had ideas. Our protocols were not some sort of secret recipe. It was things we had picked up meeting winemakers that shared knowledge, tried in our own place with success, then scaled those trials to go to the lion's share of production. We always felt like we were making wines with balanced fruit density, tannins, etc but it was reassuring to quantify these things.
A great piece of advice was given to me - and I am glad I listened. Understanding phenolics in wine does not mean that making a wine with a massive phenolic load means success. Managing tannin and color means keeping things in balance.
Over the next couple of vintages, we began eliminating vineyards and programs, fermentation protocols, and cooperages. We stripped the fat off the program and were dialing things in, and in 2016 and 2017 we made some absolutely incredible wines.
A great thing happened in 2018. I was able to hire my good friend Craig Ploof as our Director of Winemaking. We had started a small Pinot Noir project the year before and I knew we would work great together. Craig is a meticulous winemaker. Like me, he has always been one to run trials in the winery. However, Craig brought a level of discipline and consistency to the program that we absolutely needed.
That year we really stepped our game up. We had more or less dialed in protocols for all of our vineyards, things we had trialed and mastered in previous vintages and decided work well for us. We went from 20 or so cooperages with various toasts, sources, etc. to 3 or 4 excellent producers. We shrank our set of SKUs and focused production on our most successful programs.
The realities our region was facing were becoming more and more of a problem. The lack of identity and rising costs were pulling the money in both directions. Livermore Valley is capable of growing some really delicious wine. But the whimsical approach and lack of focus was and still is holding the region back. We were quite vocal about the need to be known for something and that we needed to get busy. We were experiencing it in our own winery. The jack of all trades route is a sure-fire way to get lost in the mix and devalue your effort. And we were seeing the benefits of focusing our efforts. It's amazing what efficiency does for a program.
Despite the challenges of the region, we were beginning to see some financial turnaround. We landed a couple of big deals that are still active today that have carried us through and got us out of some really tough times. Even at our lowest of lows, the mentality in the winery and with our growing partners never relented - we were going to make wines as good as anywhere.
With some financial pressure off and us coming off of what Craig and I thought was our best vintage to date in 2018, we began thinking about other options outside of Livermore Valley. Craig and I were making Pinot, so that program had already put us in new territories. And the craziest thing began to happen: people wanted to taste the wines. New people. The same people that wouldn't touch Livermore Valley. That regional reputation is what gets real wine people interested. People that embrace the culture, expect excellence, and that understand that great wine is grown with purpose.
It's a sad thing that Livermore Valley has the reputation it does. But it is a thing. Perception is reality. We had both spent over a decade trying to fight the good fight, put the region on our backs with a handful of serious winemakers and take it to the streets. But you can't shake the reputation of a region that doesn't want to be shook. And certainly not with our 10-15k cases of wine. That's just not going to reach a lot of people.
I remember the first time I asked Craig, "what do you think we could do if we were to get our hands on some great Napa Cab?" That question was the beginning of a major pivot in our story. We didn't know it yet, but our lives were about to change.