January 12, 2022 | Collin Cranor
Chapter 5: 2020 Vision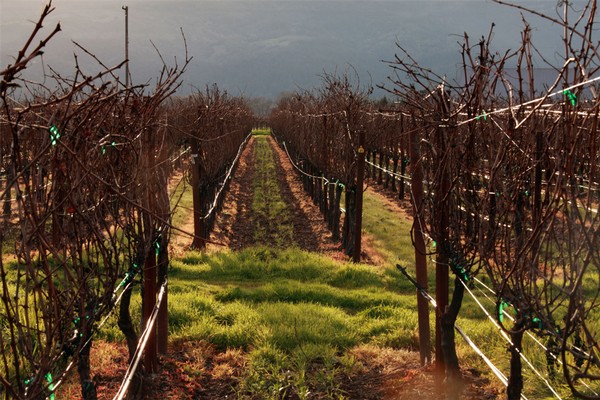 Chapter 5: 2020 Vision
I was very very sick on New Years going into 2020. I spent a week in my room with a fever that got up to 105. I ended up going to emergency room and had pneumonia. Never felt worse in my life. A few months later it all would make sense.
In January, I made a request for some fruit from one of our big suppliers in Livermore Valley. In January 2020 the grape market in Napa Valley and statewide was even more buyer friendly than the year before. Even still - I was going to give Livermore one more run. We were going to scale and take it to the streets again. Take a big chance once again on our home region.
When the pandemic began to become an issue we were already in sort of a reworking of our future.
When we were instructed to stay home "for two weeks to flatten the curve" I was told by a friend in the medical field that they didn't think this was going to be two weeks. And that I really needed to take a look at my business and start thinking about new ways to reach people. Especially if we were counting on visitors in our tasting room.
We got busy. While a lot of folks were sort of waiting around to reopen the tasting room we rebuilt the website and made buying wine online as easy as possible. It didn't matter what your job was, your job is now to sell wine. Curbside, zooms, etc. whatever it takes. "Two more weeks" quickly became months, and now over a year.
Like many people, the pandemic forced us to really take stock of who we are, what we value, and how we were going to achieve our goals.
In May, I finally got a response from our large Livermore Valley supplier about my grape request in January. Price increases again. At the lowest point of the grape market statewide, in the midst of an international pandemic. From a region who's strong point is DTC through tasting rooms, and those were shutdown.
The pandemic sped up the part that I was so concerned would happen. It no longer was going to be financially viable to operate in Livermore Valley the way we do.
Craig and I went on a mission to secure the best vineyard partners we could in Napa Valley in 2020. We absolutely stacked our deck with powerhouse vineyards.
Timing is everything. And as it turns out, our leases at our warehouses in Livermore were coming to an end. We started looking around. Everywhere from Healdsburg, to Sebastopol, to Petaluma, Santa Rosa. We didn't think Napa was an option. Too big for our britches.
We were cruising into harvest, stacked with a set of vineyards that would excite any winemaker and knowing that this would be the final vintage we would produce in the building. We didn't know where we were going but we knew it was time to go.